PipeWorx 300 A 15 Ft MIG Gun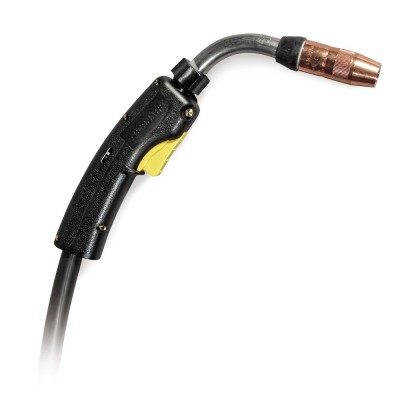 Simplified cable management
Save time by eliminating the need to trace cables back to change welding parameters and processes.
No control cables to string and manage on the jobsite
Complete control at the weld joint
FieldPro remote reduces weld defects by automatically setting correct polarity for each welding process — without the need to manually swap cables.
Eliminates the need to "get by" with less than optimal settings without control cables, and allows for easy setup of a new weld process with the touch of a button.
Total remote control of welding processes and parameters improves safety by limiting jobsite movement and reducing slip, trip and fall hazards.
Arc performance optimized for critical pipe welding
Industry-leading arc performance like the PipeWorx 400 welding system, but in a field-ready package.
True multiprocess system provides conventional stick, TIG, FCAW, and MIG welding as well as the advanced technologies of RMD and pulse.
Smart feeder delivers excellent RMD and pulse welding up to 200 feet away from the power source with no control cables. RMD and pulse processes also help reduce weld failures and eliminate backing gas on some stainless and chrome-moly applications.
New durability standard for field construction
Designed and built to withstand the harshest field environments.